Morocco's tech scene hopes to reach new heights as Dubai hosts first African edition of its tech fair in Marrakech.

Last week, GITEX Africa took center stage in Marrakech, as the UAE's renowned technology fair ventured onto African soil for the first time.
Held annually at the Dubai World Trade Center (DWTC), GITEX Global is the world's largest technology event and has been driving the UAE's influence in the sector since its debut in 1981. GITEX Africa is organized by KAOUN International, DWTC's overseas international events company.
"This is the largest technology fair in Africa," said Trixie LohMirmand, executive vice president of DWTC, proudly, shortly after the Moroccan national anthem played to begin the opening ceremony.
Hundreds of African startups, as well as established technology companies such as MasterCard and Huawei, came together to explore the potential of the African technology landscape.
The purpose-built conference center hummed with the sound of interaction as young entrepreneurs sought funding opportunities, venture investors searched for the next African "unicorn" and big tech companies sought fruitful collaborations at the sold-out event.
Why did GITEX come to Morocco? The UAE's choice of Morocco to host GITEX in its first foray outside Dubai may surprise tech-savvy people.
In 2022, Morocco recorded the lowest startup funding in North Africa, raising $18 million compared to $119 million, $152 million, and $823 million for Tunisia, Algeria, and Egypt, respectively.
Funding raised by startups in North Africa in 2022: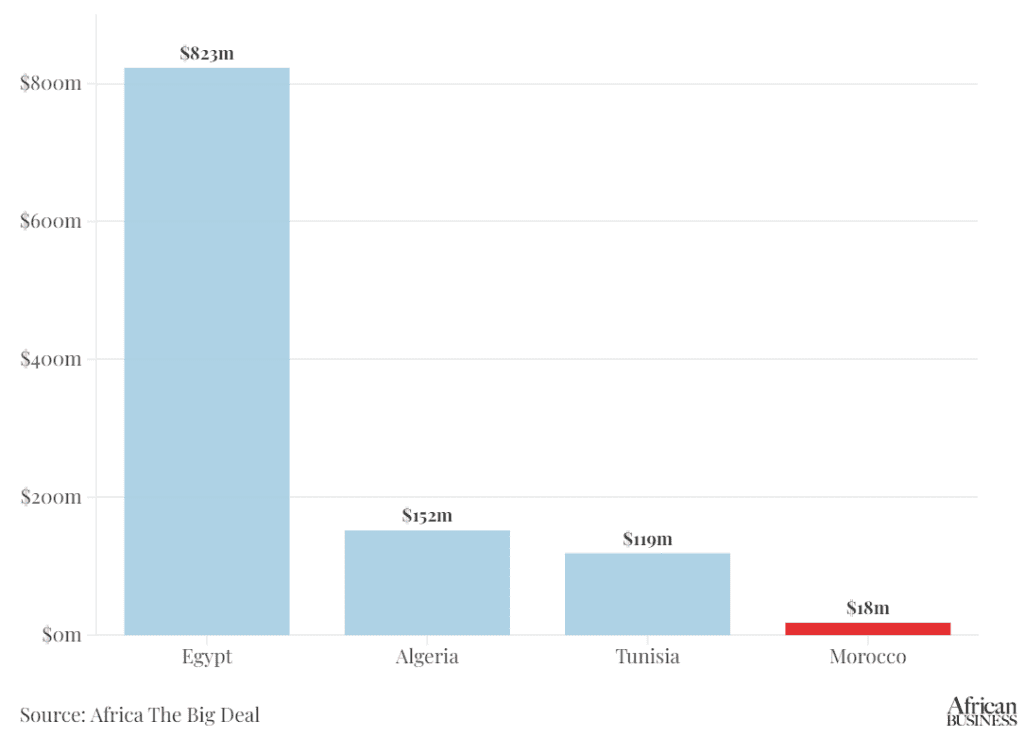 The country ranks 15th in Africa for technology venture capital funding, well behind Senegal (8th) or Ghana (5th), and on par with Namibia, despite the latter having less than a tenth of the GDP of Morocco. However, the country has state-of-the-art infrastructure, high Internet connectivity and an electricity penetration rate of 100%, making it more attractive to host an international technology fair than many countries in sub-Saharan Africa.
However, the UAE's choice of Morocco over its North African peers, which have similar competitive advantages but attract much more startup funding, also has a political component.
In November 2021, the United Arab Emirates became the first Arab state to open a consulate in Western Sahara. The region has largely been controlled by Morocco.
Source: African.business